Michael Cronin - Experience Designer
Merchant Origination
The Westpac Business Bank was required to begin reporting all transactional data from merchant facilities to the ATO beginning July 1, 2018. To effectvely meet this requirement we were required to restructure a massive amount of data, and so strategically moved to rebuild their origination and servicing systems into a single customer-focussed platform named the Merchant Digital Platform or MDP.
My role
UX/UI design lead
Discovery
The discovery phase began focussed on the AS-IS journey our banker's followed while originating and servicing customers. This was performed across brands and segments - with very different needs emerging across institutional and commercial customers.
After identifying a number of pain-points and other areas for improvements we put together what we saw as a IDEAL journey, allowing for limitations based on project budgets, timelines and new technical infrastructure.

Customer conversations
One of the main goals of this project was to create faster and more meaningful customer conversations, while originating or servicing their need(s). To achieve this, it was important to gain as much insight into the conversations as possible via interviews and observations.
Due to limitations and lack of integration within the bank's existing systems, the conversation could be greatly improved by the new platform designed to follow the conversation, while utilising all existing information and data on the customer. This new model would thus speed up the end-to-end process, especially for existing merchants.

Task-flow and analysis
The complex nature of the tasks a banker may perform with originating or servicing a customer meant a great deal of time neede to be spent with Architects and development to map out how the major journeys fit together. This process helped visualise common needs across the platform and ultimately allowed us to simplfy the solution - somewhat.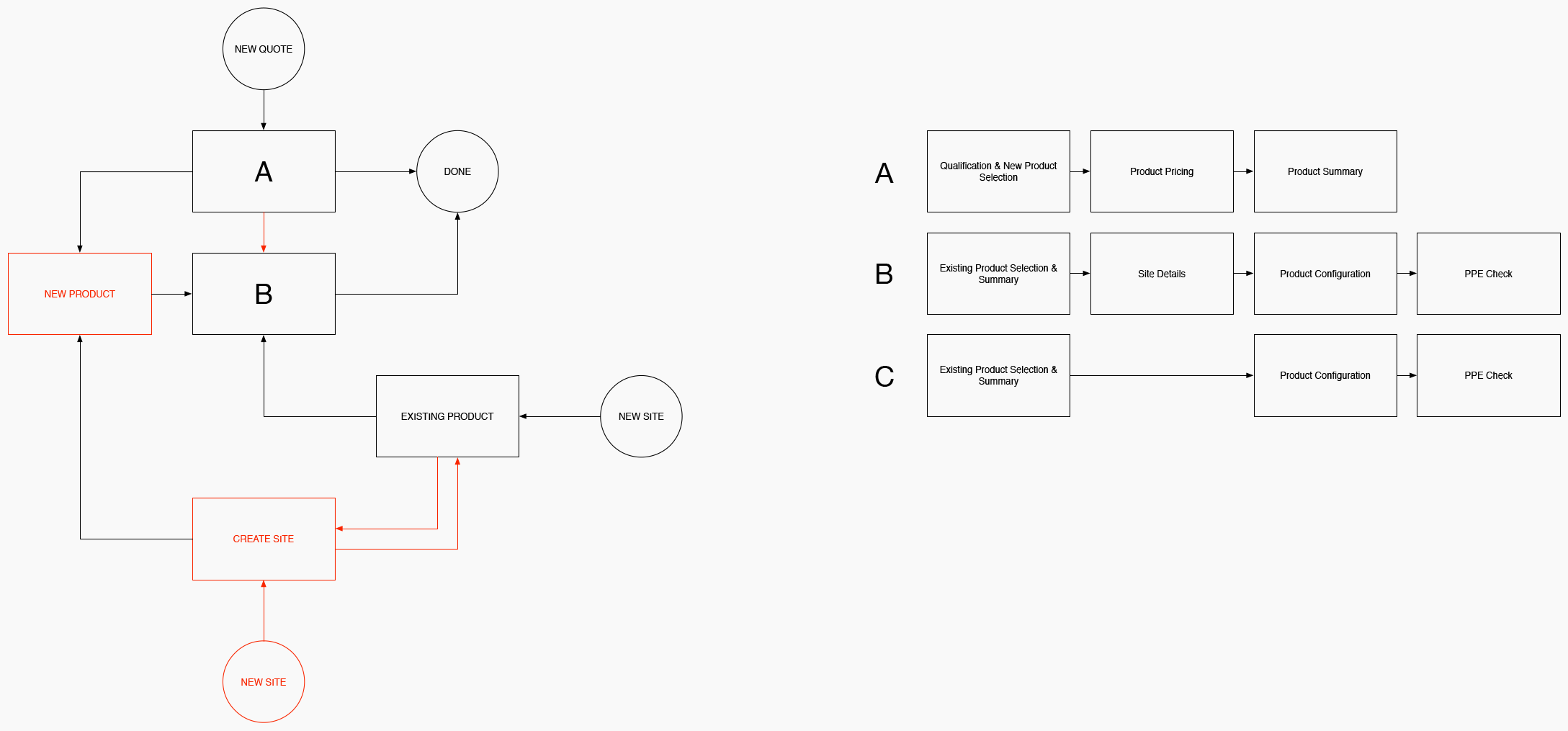 Delivery
Rapid prototyping for testing and refinement helped quickly turnaround new ideas, refine problem points and clarify workflows before entering UI and visual design. With the experience and features defined UI development and overall platform build was organised into a sprint plan and refinement of UI ran closely with developemnt teams in an agile fashion.
Tools
Axure / Fullstory / Sketch / Invision / JIRA
Testing insights and refinement
Common for projects of this size and magnitude, it was important to touch-base with our bankers regularly and test specific UI patterns, labels and overall experience to maintain the best possible output for the platform. This was done multiple times throughout project starting out with very basic wireframes and ending with official UAT testing before a series of staged releases.
Customer search
One of the areas of concern was the existing customer search, which when tested with bankers proved to have problems. While it was generally seen as being too complex, the 3 main issues discovered were:
Most missed selecting 'Individual' or 'Organisation' and is techincally redundant
The Advanced Search button was often mistaken as a submit function
It was misundstood how many fields needed to be filled in to search for a customer
To address these problems we firstly needed to simplfy the interaction, as well make it clear what is required to perform the search. We also discovered that it would be reasonably rare a banker would need to perform an Advnaced Search, thus this feature subdued somewhat to focus in a Basic Search.
Another change was to address redundant fields from the search. While the ability to search by all the data points was available, we discovered that many were not required to isolate a customer and were thus removed.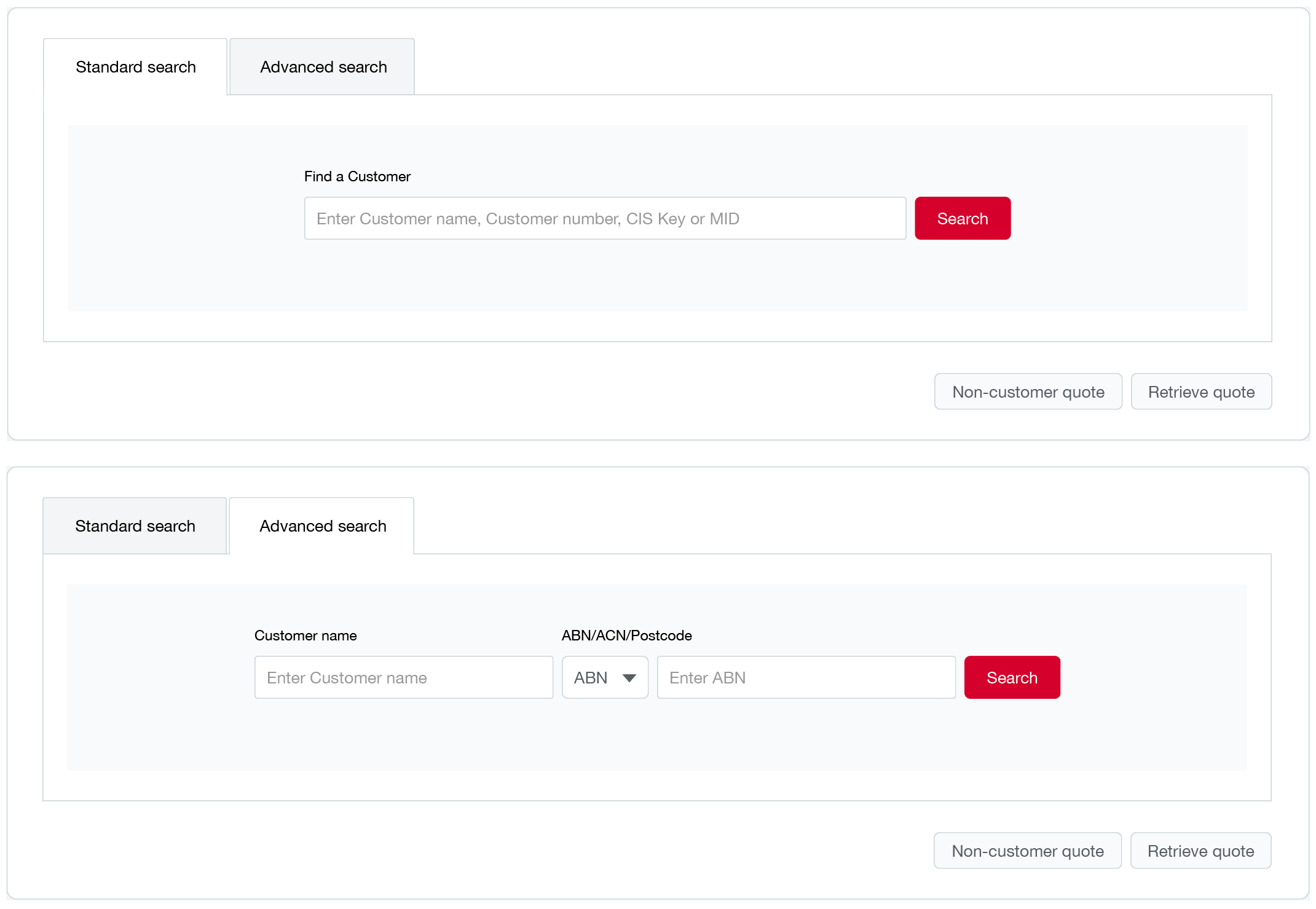 Final solution
After rounds of user-testing and feature reviews we arrived a final deliverable for the platform, covering the minimum requirements for full rollout to all brands and all segments. WHile there will be further enhancements and additional features in the future of the platform, we have arrived at MVP and aim to launch in late 2019.