Michael Cronin - Experience Designer
Biz Invoice
The Westpac Business Bank, in an effort to drive extra benefits for Business One transaction accounts, weighed up the idea of offering free invoicing software to existing and future business customers, named Biz Invoice. During the research and discovery process there was compelling proof that the product would bring measurable benefits for the customer and the HCD (Human Centred Design) team was engage to execute the experience for the new product.
My role
UX/UI design lead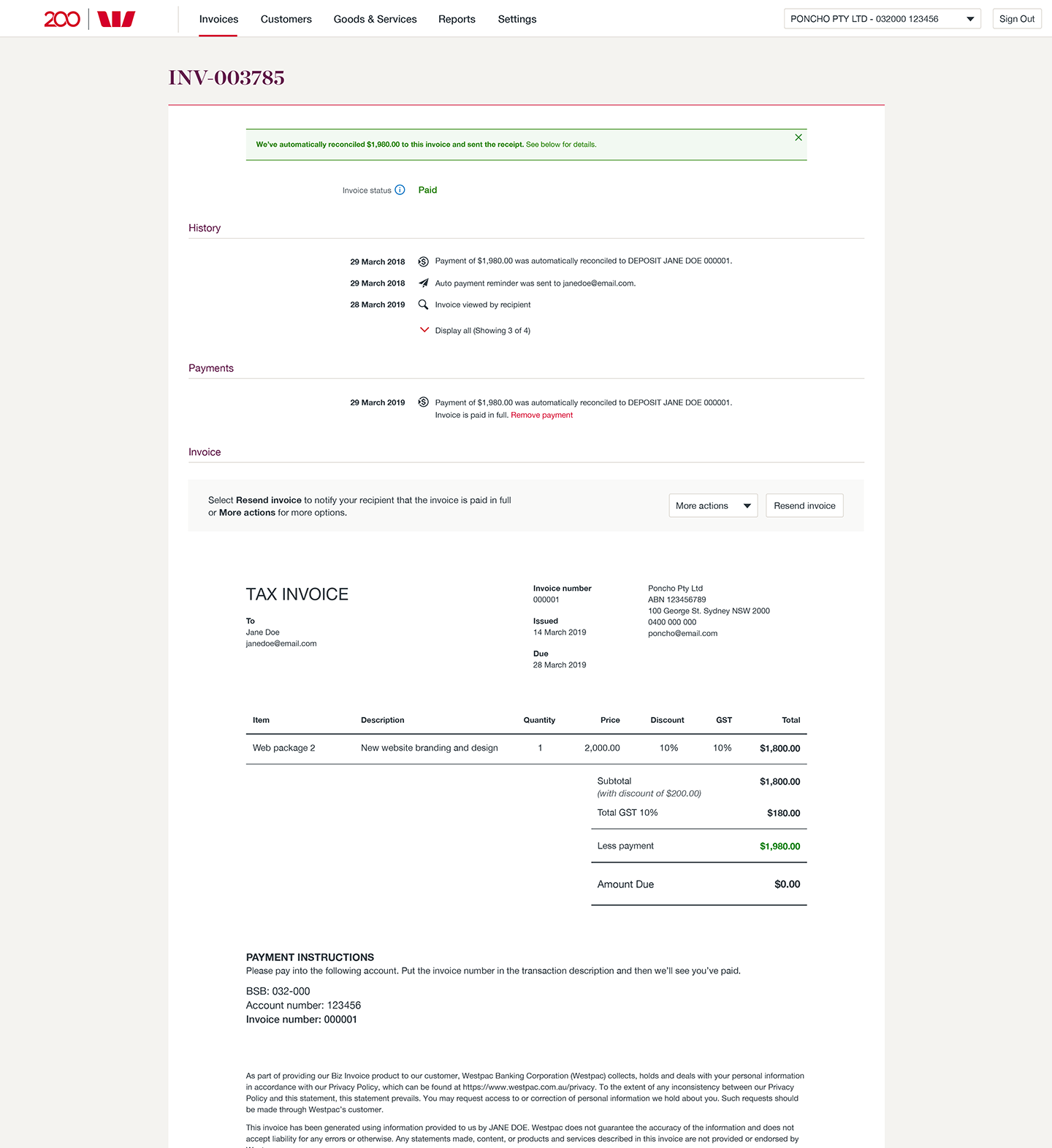 Discovery
Research in the form of interviews, surveys and usability testing was carried out to refine the interactive experience focussed on simplicity, speed and accuracy for creating and managing invoices. MVP was defined with priority placed on the most desirable features outlined by the target group:
Getting paid faster
Reducing admin time
Tracking outstanding payments
Target sample
n=460, 34% Non-employing, 40% Micro (1-4 empl.), 25% Small (5-19 empl.)
Customer desirability
A major focus of the discovery phase of the project was to decide on the desirability of the product, but more importantly the features that would align best with our target market. Customers were asked to rank what features they would benefit from when it comes to the way they invoice their customers and monitor payments.
The other priority of our research was to discover the target market: which types of businesses would be most likely to try this software? What methods are these businesses currently using to collect payments from their customers?
Competition & advantages
Another aspect of the discovery process was to do deep-diving exercise into the competitor environment and unpack how others have solved manuy of the problems associated with the design of the customer's experience - with a focus on mobile, as this is where we see a competitive advantage with your target market.
An important consideration during our competitor analysis was discovering who products from Square, Xero, MYOB, etc. target and how that differs from our target customer - and ultimately how we may be able solve problems differently, creating a more efficient and faster journey.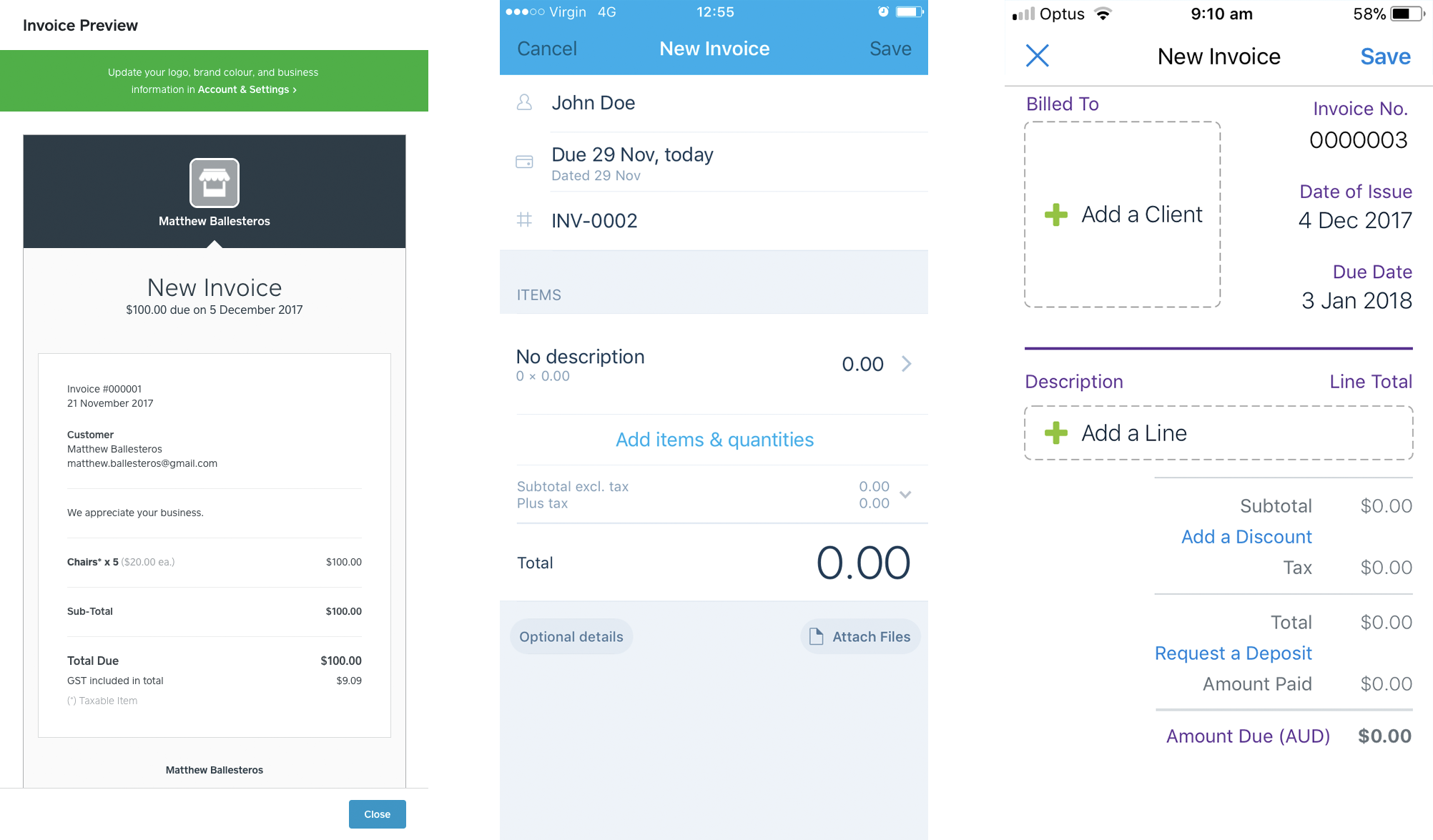 Delivery
Rapid prototyping for testing and refinement helped quickly turnaround new ideas, refine problem points and clarify workflows before entering UI and visual design. With the experience and features defined UI development and overall platform build was organised into a sprint plan and refinement of UI ran closely with developemnt teams in an agile fashion.
Tools
Axure / Fullstory / Sketch / Invision / JIRA
Adding items
The leading pattern for creating invoices is the ability to add items to the invoice. This pattern requires the ability to add an existing saved item i.e. a particular product or service, and also being able to add a new item, if need be. This pattern would then also be employed for all similar needs, such as adding a customer/recipient.
Date selections
Selecting a date has traditionally been an issue, especially on mobile devices. While the GEL/GUI has patterns available for a datepicker or manual entry of a date, due to the customer type we are catering for who may not be overly experienced with typical conventions for things like due dates, we arrived at a solution where we offer some guidance to the customer with the ability to select from a pre-defined set of due dates. This tested very well and makes for faster form completion.
Sparring sessions
Throughout the design process it is important to gain peer feedback from the HCD team, to critique UX and UI decisions as we begin to finailise the design. Weekly Design Sparring sessions are run within the team and they provide quailty feedback and also showcase any new patterns and/or solutions arrived upon that could employed on other projects the team is working on.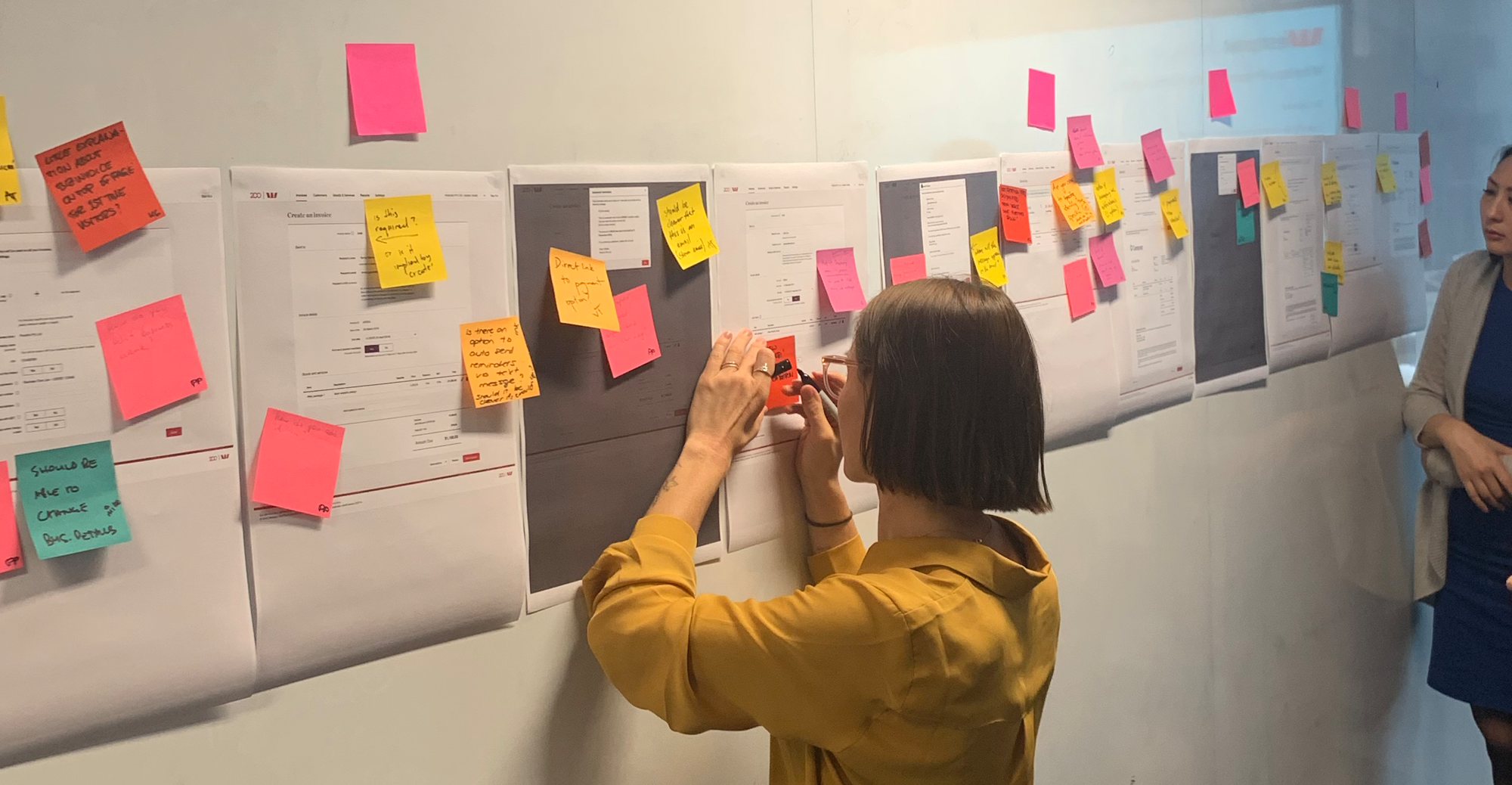 Final result
Upon launch the product immediately resonanted with our target customers and there has been strong growth in both activations and invoices sent. New features are being scoped out for release including: direct payment via credit card and BPay, as well as a quting function for serivce providers.
As of June 2019: