Michael Cronin - Experience Designer
Enhance CX
Sourcr is a recruitment reviews platform putting employers and recruiters together via a simple, powerful and smart system. This project involved a complete redesign of the platform itself as well as updating the marketing side of the business to enhance aquisition and onboarding of new users.
My role
UI design & development
Discovery
To adequately build upon the existing pilot platform it was decided a best-practice + test-and-learn methodologies were best employed. After a short discovery and journey mapping exercise, each stream of workflows were developed as HTML/CSS/JS prototypes to demo, test and refine before being intertaed into the application.
Tools
Fullstory / Google Analytics / Interviews
Existing customer journey
The first important step to fully understanding the as-is customer experience was to map out the processes of basic recruitment the platformsn offers. This allowed us to focus on pain-points and possible new directions for the platform.

Features & benefits
We engaged in an assessment of possible features that may or may not be appropriate desirable to customers. We approach this by analysing other similar style businesses i.e. Trust Pilot and Rate My Agent, to compile a list of features and their benefits to take into a workshop with a select group of Recruiters. We asked them to each sort a group of features 15 features into order of desirability.
Here was the top 5..
Delivery
While the origination process for onboarding new users required a linear and simple flow, the system comprises of two distinct platforms: marketing/aquisition and the recruitment software application. While requiring certain differences it was important to maintain an obvious consistency across the experience.
Tools
HTML(5) / CSS(3) / JQuery / Cactus / Amazon S3
Test-and-learn
Learning from decisions made and quickly evaluating and iterating on new solutions was a major part of optimising both the marketing assets and also the platform itself, based on fast and agile development.
e.g. Signup flows variations
One existing problem requiring immediate attention was the fact many users were signing up for the wrong account. The platform has specific user types: Employers and Recruiters. It became apparent the exising signup process did not effectively drive new customers to the appropriate signup methods. After testing a few solutions, a whole new flow was proposed and solved the problem, including a profile claiming strategy to help increase recruiter signups...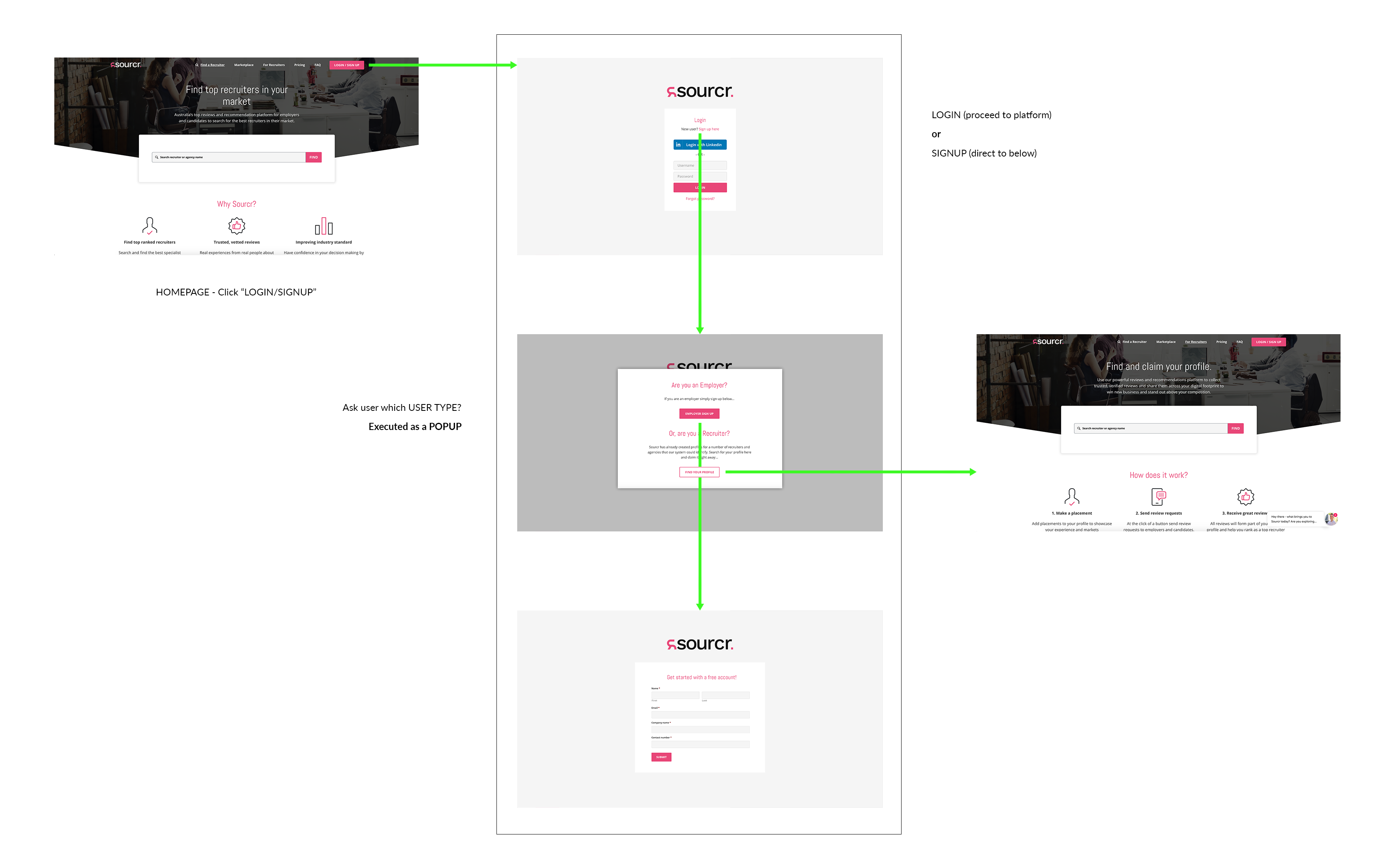 Designing data
All of our research, both qualitative and quantitative, pointed to a need for in-depth anaylsis and reporting for recruiters - and their angnecies. We then built a model for creating 'Placements' which in turn sends out requests for 'reviews' with a simple to use, categorised rating system for candidates and employers to complete.
Final solution
While launching new features and improve experiences in an ongoing task, the platform and it's featires are being well received by customers and growth in our user-base continues to impress. We continue to test-and-learn and will being releasing regularly to optimise and improve our customer's experiences with Sourcr.